Skip to Content
Concrete Section Replacement
Concrete Section Replacement in Summit County
Change the areas of your concrete that need replacing—and nothing more—with our superior concrete replacement in Summit, County, UT. Brains and Muscle Concrete is a family-owned and operated concrete company with two decades of experience. We've serviced countless residential and commercial properties with driveways, patios, pathways and beyond.
Our customized solution approach ensures your new concrete section suits your precise needs. We commit fully to your project when we take it on, allowing us to focus all our time and attention on your project for the best results possible. Whether your project is large or small, we will complete it with the highest level of expertise.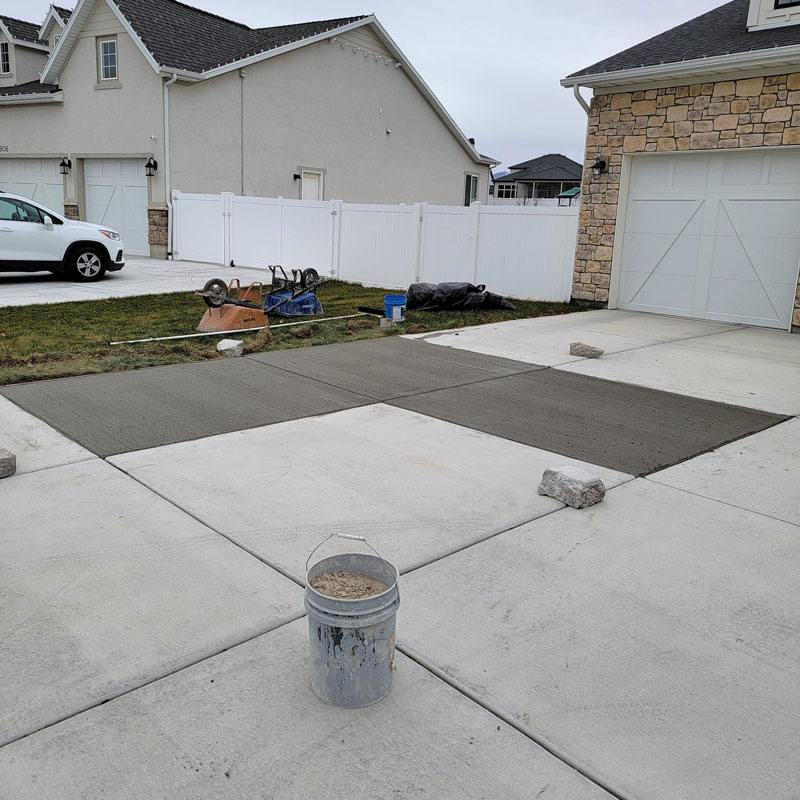 Should I Replace My Concrete Section?
If you notice parts of your concrete crumbling, cracking or otherwise deteriorating, you may feel an urge to replace it altogether.
We encourage you to take some time and think about your options. Though signs of substantial damage or decay may worry you, you may not need a total replacement. It could be that certain sections of your concrete need to be replaced, while other areas can remain. Some may try to convince you that a complete replacement is in order. That's why we recommend receiving a proper inspection to figure out what your concrete needs.
We provide thorough and detailed inspections for your concrete. We consider your concrete's age, condition and overall quality. After we inspect, our experienced professionals will inform you of what it will take to repair and restore your concrete.
We possess the tools and knowledge to replace certain concrete areas while keeping your healthy sections intact. Your new concrete will blend seamlessly with your older concrete, making the overall quality look and function like new.
Get a Customized Concrete Replacement Solution
Cracking and other signs of damage may alarm you, so we recommend putting your mind at ease with an inspection, consultation and solution. The truth is your concrete may not need a total replacement. Section replacements take less time and money to complete, and they may be all your concrete needs.
We'll inspect your concrete and develop a customized solution to restore it. After we're finished, your new concrete will blend and look entirely natural with your existing slabs. You might even forget we came to serve you at all. Contact us to learn more about our full consultations today.
Contact Us Today for a Free Estimate