Skip to Content
Deck Installation Experts in Salt Lake City & West Valley City, UT
Decks Demo & Installation
Welcome to Brains and Muscle Concrete, your trusted provider of deck installation and demo services in Salt Lake City, UT, and West Valley City, UT. Our team of experts is committed to delivering high-quality, durable, and stylish decks that meet your specific needs and preferences. We understand that your outdoor space is an extension of your home or business, and we strive to create decks that reflect your style, personality, and purpose. Whether you need a cozy and intimate deck for your family, a spacious and versatile deck for your business, or a luxurious and sophisticated deck for your guests, we have the skills and creativity to bring your vision to life.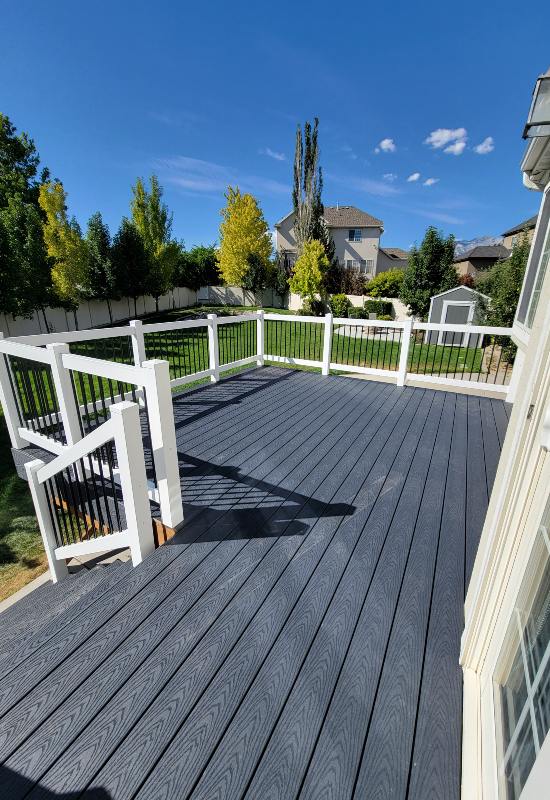 What Is a Deck?
A deck is a flat surface made of wood or composite material that extends from the house or building and is typically elevated from the ground. It can be used for a variety of purposes, including outdoor dining, entertaining guests, sunbathing, or relaxing. Decks can be attached to the house or freestanding, and they come in different shapes and sizes to fit your outdoor space and lifestyle.
Decking Installation Best Practices
To ensure the longevity and safety of your deck, follow these best practices:
Choose the right material for your needs, preferences, and budget.
Plan the layout and design of your deck and obtain the necessary permits and approvals.
Prepare the site by removing obstacles, leveling the ground, and installing footings or piers.
Install the frame, joists, and beams using sturdy and durable materials.
Lay the decking boards uniformly and securely, leaving adequate spacing between them.
Finish the composite deck installation with railing, stairs, lighting, and other accessories that enhance its functionality, safety, and aesthetics.
How Do You Demo a Deck?
If you have an old or damaged deck that needs to be removed, we can also help you with the demo process. Here are the steps that we typically follow:
Remove all furniture, plants, and other objects from the deck and the surrounding area.
Disconnect any utilities, such as gas, water, or electricity, that are connected to the deck.
Start from the top of the deck and work your way down, removing the decking boards, railing, stairs, and other components.
Use a crowbar, hammer, or pry bar to loosen and remove any nails, screws, or fasteners that hold the deck together.
Cut the deck into manageable pieces and load them onto a trailer or dumpster for disposal.
Clean the site and remove any debris or residue from the demo process.
Advantages of Decks
Decks offer several advantages over other outdoor structures, such as patios or balconies. Here are some of the benefits that you can enjoy with a well-designed and constructed deck:
Increased Living Space – A deck can extend your indoor living space to the outdoors and provide more room to relax, entertain, or work.
Improved Aesthetics – A deck can enhance your property's curb appeal and value by adding a stylish and functional element to your landscape.
Better Accessibility – A deck can provide a smooth, level surface accessible to people with disabilities or mobility issues, unlike stairs or steep slopes.
Higher Resale Value – A deck is a desirable feature that can attract potential buyers and increase the resale value of your home or property.
Lower Maintenance – A deck requires less maintenance and upkeep than other outdoor structures, such as patios or gardens, and can last many years with proper care and protection.
Why Choose Brains and Muscle Concrete
At Brains and Muscle Concrete, we are committed to providing our clients with the highest quality services. Here are some reasons why you should choose us:
Expertise and Experience – Our team of skilled and experienced professionals has the knowledge, skills, and tools to handle any deck installations, deck post installation options, or demo projects, regardless of their size, complexity, or location.
Quality and Durability – We use only the best materials, products, and techniques to ensure your deck is built to last and withstand the elements.
Customer Satisfaction – We prioritize your satisfaction and strive to exceed your expectations.
Competitive Pricing – We offer competitive and transparent deck installation cost that reflects the value and quality of our services without any hidden fees or surprises.
Safety and Compliance – We follow strict safety guidelines and regulations to ensure the safety of our team, your property, and the environment. We obtain all the necessary permits and approvals for your project.
Get in Touch With Brains and Muscle Concrete
At Brains and Muscle Concrete, we look forward to helping you create the outdoor space of your dreams. If you are interested in installing a new deck or demoing an old one, please don't hesitate to contact us today for a free consultation and estimate. We will be happy to answer any questions you may have about the installation or cost to demo a deck and work to provide you with the best solutions for your needs and budget.
Contact Us Today for a Free Estimate