Skip to Content
Concrete Crack Repair in Summit County
Brains and Muscle Concrete provides concrete crack repair in Salt Lake City, UT.
Regardless of your project's size, our team has the tools and knowledge necessary to get it done right. We've spent the last 20 years servicing residential and commercial properties alike. We perform complete concrete services by developing customized solutions for each client.
We'll provide you with full consultations, offering our wide range of services to realize your concrete job fully. Feel free to contact us today to learn more about how we can satisfy your needs for your residential or commercial project.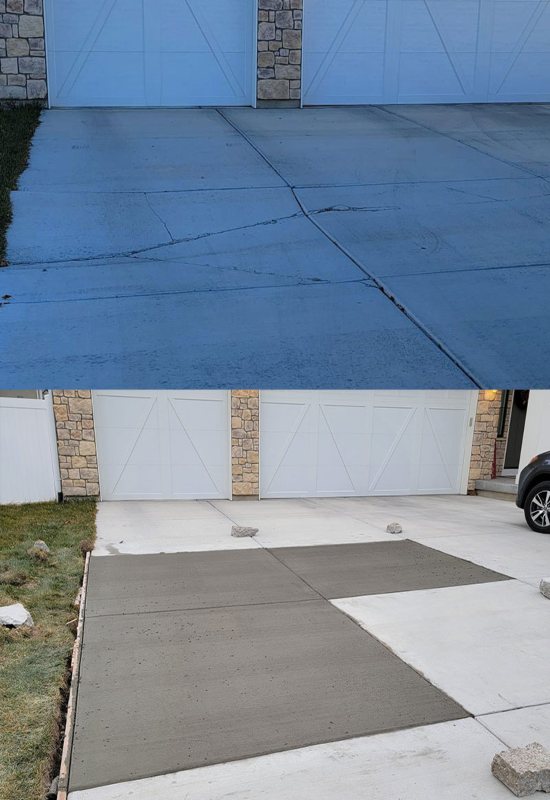 Four Signs You Need a Crack Repair
If you notice any of the following damage signs, we recommend having your concrete inspected by our professional:
Uneven Concrete: Does a section of your concrete jet out from the rest? Is your concrete crack wide and deep? If so, we recommend getting it inspected and fixed. Uneven concrete can eventually lead to other issues like water damage or collapse, costing you more money, time, and headaches in the future.
Water Damage or Leaking: If you notice water or moisture pooling on your surfaces, your damaged concrete may be to blame. Cracks and broken sections allow seeping water to leak through and invade your home, which causes discoloration and the risk of slipping. If you're facing mystery water on your walls or floors, we encourage you to schedule an inspection for concrete repair.
Old or Aged Concrete: Time will eventually take its toll on your concrete. If you've occupied your residential or commercial property for many years, or you've recently purchased an older property, an inspection should be on your task list. We can look at your concrete and find potential threats that we can fix.
Sinking or Sloping Concrete: Aside from looking unpleasant, sinking or sloping concrete can cause uneven footing and potentially dangerous tripping. If you ignore sinking or dropping, the issue will only worsen over time. Contact a professional to inspect and assess your concrete problem as soon as possible.
Completely Committed to Your Concrete Repair
By choosing us, you'll receive a service that's focused entirely focused on you and your project. Instead of taking on multiple projects at once, we focus on one at a time. Our approach allows us to put more time and effort into jobs, ensuring our clients receive the most satisfaction possible. Projects big and small get the same high level of attention to detail. Feel free to contact us today and learn more about our full consultations.
Contact Us Today for a Free Estimate